Please Note...
If you are buying your daughter a skirt then please buy the school uniform skirt with the logo from Clubsport.
When purchasing new trousers for boys or girls they must not be of the skinny style but must be straight with the width at the bottom of no less than 18cm.  Trousers of the correct style can also be purchased at Clubsport.  Jeans of any form will not be acceptable.
Shoes also need to be of a certain type for health and safety reasons.  Examples of which shoes are acceptable can be found below.
Thank you for your co-operation in keeping our students smart.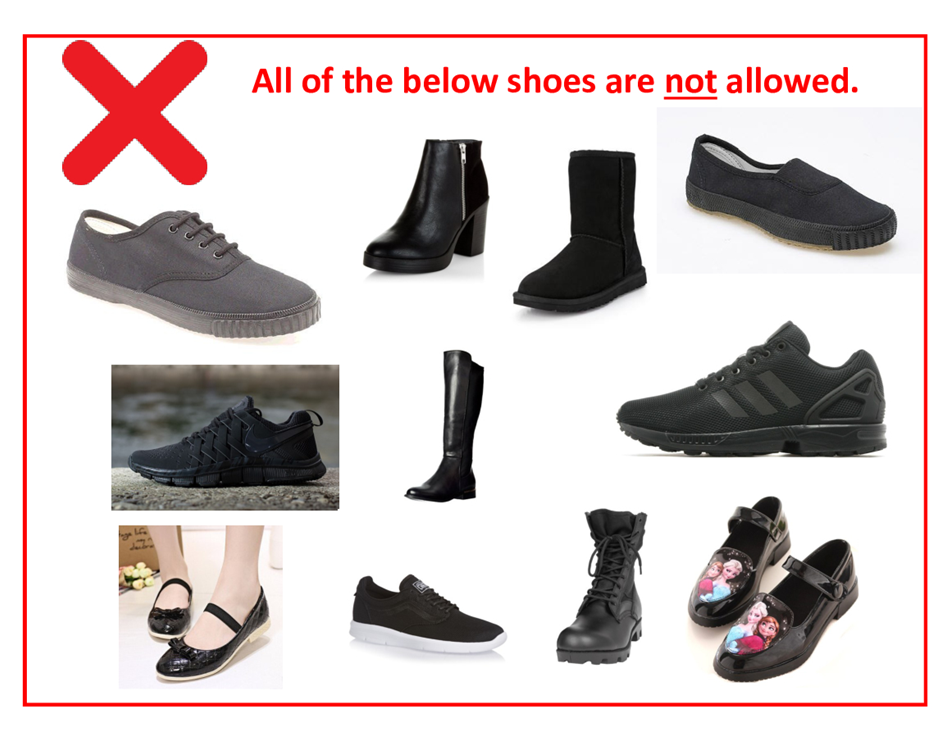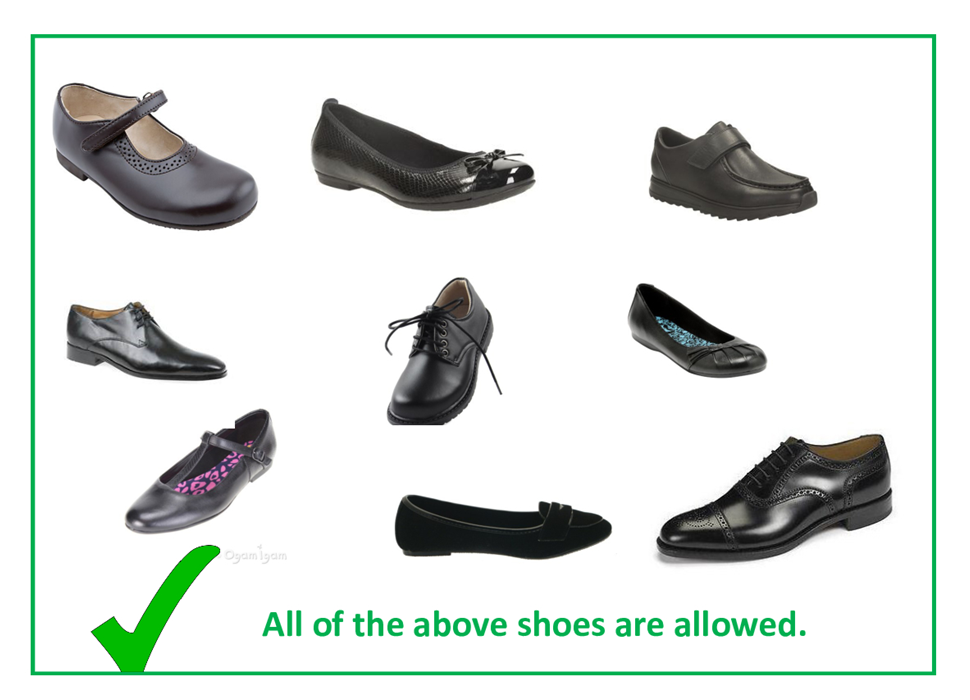 School Uniform Required
School Blazer (school jumper is optional).  
Plain white shirt with a button that allows the collar to close. They must be long enough to be tucked in.
School Clip on Tie (no other tie will be accepted).
Black tailored school trousers (not skinny style or denim) or Black school skirt with school logo.
Black school shoes (not trainers).
Optional black school coat.
One ring, a watch and one small set of stud earrings are permitted.  No other piercings are acceptable in school for health and safety reasons.
Belts must be narrow and plain black.
Hair must be a natural colour – non-natural colours are not permitted.
False or acrylic nails are not permitted.
Excessive makeup is not permitted.
Equipment Required
The following list contains essential items that your child will require:
Pencil Case which will hold:
Pens (black/blue and red) – school work must be done in blue or black ink unless otherwise asked by the teacher.
Pencils & pencil sharpener
Rubber
Ruler
Colouring pencils
Glue stick
Safety scissors
Basic items such as pens and pencils are available to buy from the school shop within the canteen. 
Other items needed:
Geometry set
Scientific calculator – available to buy from the Maths Dept.
Water bottle – available to buy from Finance Office
Gardening gloves – for grounds appreciation sessions
Optional items:
Different shading pencils e.g. B, 2B, 4B for Art
Highlighters
Black fine liner – for Technology
In ear headphones – required for CAT's tests in September.